WESLEY CHAPEL — Earlier this month, Army Master Sgt. Christopher Blauvelt and his wife, Bernadette, stood on the ground where a home will soon be built for their family.
Blauvelt, 57, who had his right leg amputated in Afghanistan in 2010, was both uncomfortable and grateful that Homes For Our Troops, a publicly funded 501(c)(3) nonprofit organization that builds and donates specially adapted custom homes for severely injured post-9/11 veterans, was going to build his home on that very spot. Grateful that the house would make his life easier, and uncomfortable because Blauvelt has always felt that despite his injuries, somebody out there needed help more than he did.
Accepting the helping hand took a little bit of work.
"When you're injured, you always think there's someone more injured than you, right?" he said. "But I'm just super thankful. It's just shocking. You know, I've been paying a mortgage quite a bit during my lifetime and just to have a mortgage-free home that my children will inherit. It just feels so good."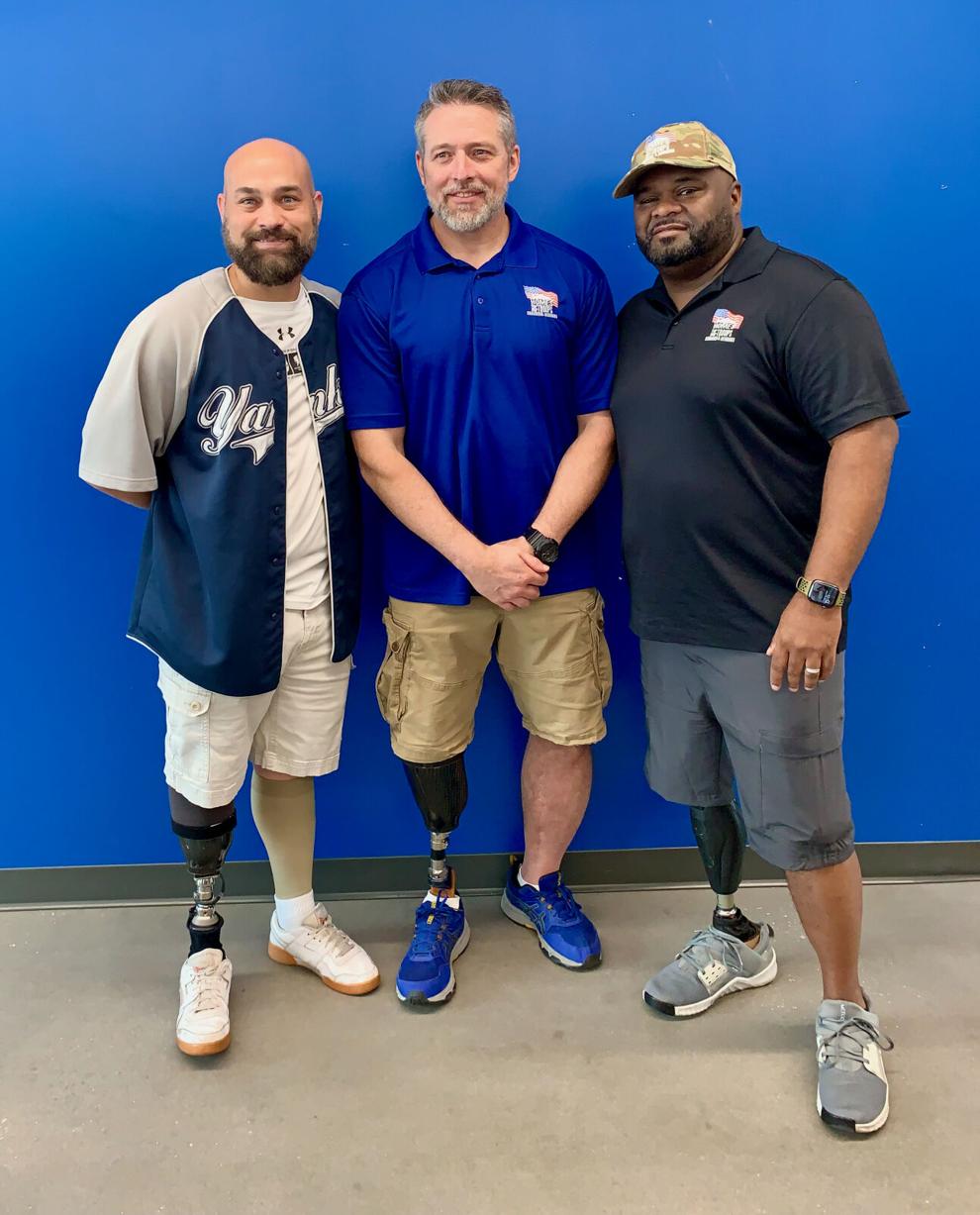 A life-changing day
A Connecticut native now living in New Tampa, Blauvelt and his infantry unit were leaving a village in Afghanistan on April 4, 2010, when his life changed forever after an IED exploded beneath his vehicle. 
He says he was fortunate to be in a newer Oshkosh Defense Mine Resistant Ambush Protected (MRAP) All-Terrain Vehicle, because the bomb, estimated to be a 250-pounder, would have destroyed an older armored vehicle.
"I don't know exactly how big it was, but it broke a lot of my bones, so it was big enough to do that," he said.
But while no one was killed, Blauvelt was still perilously injured. His crew radioed for help and were extracted. Afterwards, his crew told him he just kept repeatedly saying, "What happened? Is everyone all right? I think there's something wrong with my back."
Blauvelt was bleeding to death. His pelvis was broken, he said, and pelvises tend to bleed a lot. "That is what almost killed me," he said.
There was no choice but to remove his right leg at the base in Afghanistan, and then medivac him to Germany. Because so many of his bones in his spine had been shattered, Blauvelt was put in a coma for five days to keep him from moving as doctors worked to repair him.
Blauvelt, however, doesn't remember any of this. The last thing he remembers from that day was placing an online order for flowers for Bernadette, because it was their anniversary.
"When I woke up in Walter Reed, with my daughter Zoey, just like right in my face talking to me, it was weird," he said. "I didn't know what was going on."
Bernadette's worst fears had been realized. Her husband was in the Coast Guard and Marines for a total of 13 years but got out in 2000 because the travel was too much. But less than a year later, the World Trade Center's twin towers were reduced to rubble, and Blauvelt re-enlisted in an Army National Guard unit in Connecticut that had infantry. Eventually he went to the Active Guard Reserve and was deployed to Afghanistan in 2009.
After his injuries, he and his family, which now includes five children — three still living at home — settled in New Tampa, due to its proximity to the James A. Haley Veteran's Hospital, which has some of the best spinal care doctors in the world. Bernadette opened an art studio at The Grove in Wesley Chapel.
Blauvelt knows he is one of many to have suffered similar fates during this time, and in fact met another veteran that had lost his leg in 2010, Tim Read, while exercising at the AdventHealth Wellness Center. 
The two became fast friends — in fact they had been at Walter Reed at the same time in 2010 — and would meet up for coffee. Their wives became friends too. Read, who was selected by Homes For Our Troops in 2019 and had a home built for his family in Wesley Chapel, suggested Blauvelt to do the same. Blauvelt was hesitant and didn't think much of it. A few years passed, Bernadette eventually applied and Homes For Our Troops selected them as a recipient.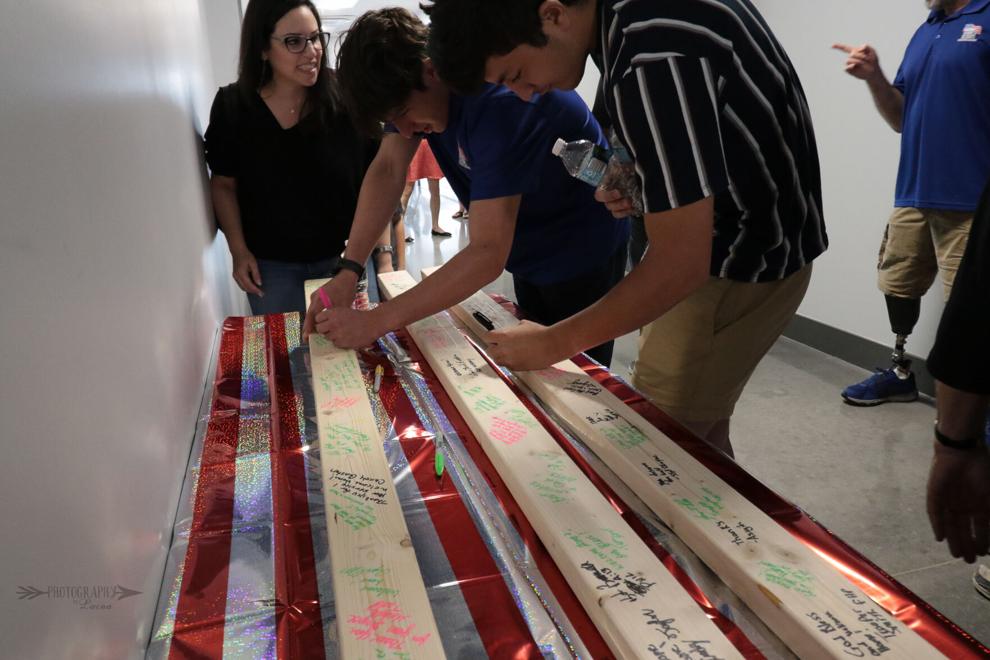 A piece of property and peace of mind
"Everyone is happy, but I'm super excited," he said. "I can't wait."
The Blauvelts were able to choose a property in Wesley Chapel, near The Grove. On May 6, the organization held a community event to kick off the home-building process.
"They're so freakin' sweet, man," Blauvelt said. "I'm not even exaggerating. These people are truly sweet. I really liked them. My wife and I, we're trying to think of ways down the road to pay this forward."
It is no ordinary house that will be built for the Blauvelt, who excitedly says that there are at least 40 adaptations on the house.
The most important one to him is the shower, which will have a bench built into it to help with what is typically a burdensome process that currently involves Blauvelt using two plastic chairs and sliding from one to the other.
"This won't collapse, so that will be nice to dry off and just slide down the bench," he said.
Plus, many of the adaptations are built with the future in mind. So, Blauvelt will be able to slide down the bench and into a wheelchair when that day comes.
"They went to the furthest extremes for your lifestyle," he said, noting other things like wider door frames, as he says he is prone to bump into door frames, which is painful. 
And there are buttons to open some of those doors, there are accordion-type cabinets and drawers that are easily accessible and even a concrete-enforced room with a steel door, which Blauvelt originally thought was a panic room or something similar.
"I didn't understand what they were saying at first, I was thinking if it's for when someone is coming after you, but I'm infantry, I'm not running from anything," Blauvelt said, with a chuckle. "But it's actually for natural disasters, like a hurricane. So that was kind of neat."
One of the things Blauvelt likes most, however, and has nothing to do with accessibility or helping him get along easier, is the flagpole that will be installed out front.
"I've raised and lowered the flag for so many years of my life, I always thought I would like to own one," he said. "So that will be really cool."
And finally, he will have the generator he has always wanted to buy. "The thought of the power going out, and everything in the fridge going bad, has always crossed my mind," he said.
What Blauvelt doesn't mention is the peace of mind it will bring him. Bernadette says that may be the greatest benefit of all. While he won't admit it, she says he worries about not being able to work, and how that may affect the future of his family. Not having a mortgage will take many of those worries away.
"It really is heartwarming," Bernadette said, "and it makes me cry thinking about it."
Blauvelt recently attended a memorial for Read, who had pushed for him to reach out to Homes For Our Troops and who passed away unexpectedly in March. 
Read had been working on a software engineering degree at Saint Leo University, so he could pair that with his mechanical background and maybe one day found a nonprofit race team to help raise money for organizations, like Home For Our Troops, that had helped him.
At the memorial, Saint Leo's president presented Read's wife, Anh Lan Du, with his honorary bachelor's degree.  Her tears and sobs tugged at Blauvelt in a way few things ever had. His friend had been working hard to pay it forward, and Blauvelt left the memorial determined more than ever to do the same.
"I don't know why that meant so much to me, but I've already reached out to them to find out what kind of programs they offer," he said.
He wants to go into clinical social work. He says he knows what veterans are feeling, and what they are going through. He knows what it is like to serve your country, a job he says he would do all over again and do it for free, and he knows firsthand the pain and anguish that can sometimes come from it.
And he knows about recovery, and what it means to someone to have a hand reach out to pick you up. Ideally, he would like to be that hand for someone else. 
"I like the idea of trying to help them feel a little bit better, so they can make it," he says. "I know there's a lot of people that could use that."